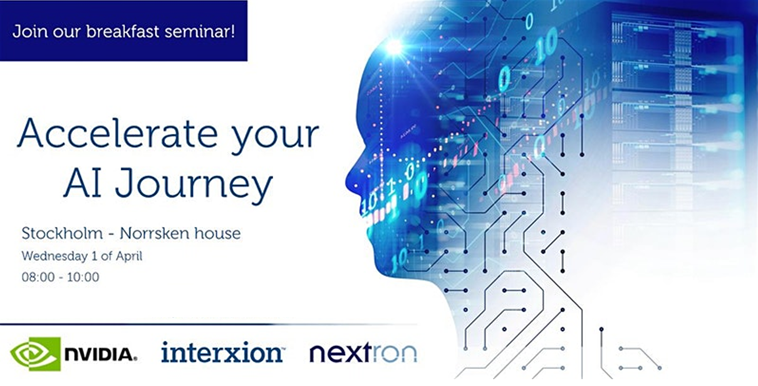 Due to the Coronavirus this event has been postponed. New dates will come!
Join us and take a closer look at how AI will shape your future
AI has previously gone from being Science Fiction-stamped, to play a vital role for the IT investment initiatives. There is no doubt the rise of Artificial intelligence is affecting businesses and their IT agenda going forward. Enterprises who early embraced AI and are now deploying AI at scale experience that AI and Deep learning require massive amounts of processing power to the ability to transfer large amounts of data.
Furthermore, in order to truly reap the benefits of deep AI adoption, they also need to invest in robust hardware as well as in the powerful, connected and highly-performant infrastructure required to support it.
Another important aspect of a successful journey is which partners you take along the way. Do you have the right connections and trusted partners in place for your AI journey?
Join us for our seminar 'Accelerate your AI Journey', where we are happy to present Fredric Wall from NVIDIA as our keynote speaker, who will share his insights on the latest AI trends impacting our daily lives and how they may affect your future IT infrastructure.